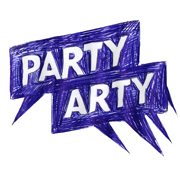 PARTY ARTY VOL. 39 - FEMALE SPECIALLY
Emma Heartbeat (D) *live*
Frogg (Louise Mills, Luke 4000, Mo Delgado/D) *live*
Sarah Farina (WeBoogie/Through My Speakers/D)
That Fucking Sara (D)
Kay Boogie (Subotage/D)
Ms. Freshfluke (Jam FM/D)

KUNST
skulptur: Ekaterina Mitichkina
tanzperformance: QITC ( Quiet In The Corner)
mixed media: SHOXXX
POETINNEN
Marion Hütter zeigt Ausschnitte aus ihrem Film "Dichter und Kämpfer"
Sarah Bosetti
Josefine Berkholz
Arezu Weitholz
und andere mehr!
Emma Heartbeat

(D)
Bass, Electronica
Frogg

(Louise Mills, Luke 4000, Mo Delgado/D)
Electronica, HipHop
Sarah Farina
(WeBoogie/Through My Speakers/D)
Electronica
That Fucking Sara

(D)
Disco, Elektro, Rap
Kay Boogie

(Subotage/D)
Electronica
Ms. Freshfluke

(Jam FM/D)
Electronica
NEWSLETTER
NEWS
SUMMERBREAK
Gretchen is on holiday from 1.06. until 20.06. and from 23.06. until 04.07.2013.

OUR NEWSLETTER

You like to know about entry fees or win some freetickets?
Then subscribe above for our weekly newsletter.
PRESALE

All our presale tickets BELOW (!) are always
available at
Oye Records
Oderbergerstr. 4
10435 Berlin
PRESALE

Sa 22.06
23.00
GOLD PANDA
Gold Panda *live*
MØ *live*
Luke Abbott *live*
Thomalla *live*
u.a.
(kein VVK bei Oye)

Koka 36
Do 27.06
20:00
MAYER HAWTHORNE LIVE @ BI NUU
Mayer Hawthorne (USA) *live*

Koka 36