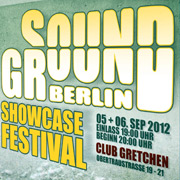 SoundGroundBerlin
HEY! HO! LET'S GO!

48 Stunden (D) *live*
Tapete (D) *live*
The Whatchamacallit (D) *live*
Gendefekt (D) *live*
San Ima (D) *live*
Ipek Ipekcioglu feat. Otis Sandsjö (D) *live*


Amadeus 16:9 (D)


Comedygötter
Berliner Nachwuchsmusiker im Gretchen.
SoundGroundBerlin hat sich zum Ziel gesetzt, auf den subkulturellen Reichtum dieser Stadt aufmerksam zu machen. Berliner Nachwuchsmusiker, die alle noch keinen Plattenvertrag in der Tasche haben, bekommen die Gelegenheit, sich auf einer Compilation und live auf der Bühne zu präsentieren. Die Veranstaltungen finden an besonderen Orten statt und mit von der Partie sind immer auch Berliner DJs und VJs.
Den Auftakt bildet am 5. und 6. September ein zweitägiges Showcasefestival, das in den kathedralenartigen Räumen des Berliner Clubs Gretchen stattfindet. Jeder ist herzlich dazu eingeladen, sich mit uns auf Entdeckungsreise in den Berliner Untergrund zu begeben. Also: Hey! Ho! Let's go!
soundgroundberlin
http://www.facebook.com/SoundGroundBerlin
Text: SoundGroundBerlin
48 Stunden

(D)
Synthie Pop
Tapete

(D)
Electronica, Elektro-Pop, HipHop
The Whatchamacallit

(D)
Indie
Gendefekt
(D)
Indie, Punk
San Ima

(D)
Electronica, Elektro-Pop, Indie
Ipek Ipekcioglu feat. Otis Sandsjö

(D)
Electronica
Amadeus 16:9

(D)
Electronica
NEWSLETTER
NEWS
SUMMERBREAK
Gretchen is on holiday from 1.06. until 20.06. and from 23.06. until 04.07.2013.

OUR NEWSLETTER

You like to know about entry fees or win some freetickets?
Then subscribe above for our weekly newsletter.
PRESALE

All our presale tickets BELOW (!) are always
available at
Oye Records
Oderbergerstr. 4
10435 Berlin
PRESALE
Mi 22.05
20.30
ONDATRÓPICA
Ondatrópica (Soundway/UK) *live*

Koka 36

Sa 22.06
23.00
GOLD PANDA
Gold Panda *live*
MØ *live*
Luke Abbott *live*
Thomalla *live*
u.a.
(kein VVK bei Oye)

Koka 36
Do 27.06
20:00
MAYER HAWTHORNE LIVE @ BI NUU
Mayer Hawthorne (USA) *live*

Koka 36