GRETCHEN
Obentrautstr. 19-21
10963 Berlin - Kreuzberg
Tel: +49. (0)30. 259 227 02

Wir verwenden unterschiedliche Email-Adressen für die verschiedensten Belange.
Bitte unbedingt an die entsprechende Email-Adresse wenden...
We use different email addresses for various topics.
Please use the right one...
ALLGEMEINE ANFRAGEN ZU VERANSTALTUNGEN SOWIE MIETANFRAGEN:
General questions and rental inquiries:
gretchen (at) gretchen-club.de
ANFRAGEN VON KÜNSTLERN, LABELN ODER AGENTUREN (KEINE MIETANFRAGEN!):
Booking requests (ONLY artists, labels, booking agencies, NO RENTAL INQUIRIES):
booking (at) gretchen-club.de
DU HAST ETWAS IM CLUB VERLOREN?
You've lost something at the club?
lost (at) gretchen-club.de

MINDESTALTER
Einlass zu CLUBveranstaltungen (u.a. alles, was ab 22 Uhr oder später beginnt) ab 18 Jahre! Keine Ausnahmen! Keine Muttizettel o.ä.!
Einlass zu KONZERTveranstaltungen (alles, was vor Mitternacht zu Ende ist) ab 16 Jahre! In der Regel keine Ausnahmen, keine Muttizettel o.ä.!

MINIMUM AGE
Minimum age for admission at CLUBNIGHTS is 18 years (all events from 10pm or later!)! Without exception!
Age restrictions for CONCERTS or events, which end before midnight: 16 years! Generally no exceptions, no supervision forms ("Muttizettel").
BARRIEREFREIHEIT
Das Gretchen ist barrierefrei für Rollstuhlfahrer*innen. Ehemals vorhandene Stufen in Box1 (großer Floor) und zu Box2 (kleiner Floor) wurden in 2021 durch festeingebaute gegossene Rampen ersetzt. Der Einlassbereich verfügt über eine mobile Rampe. Die barrierefreie Toilette befindet sich hinter der Bühne. Am Einlass oder an den Bars bitte einfach nach dem Schlüsselprocedere fragen.
ACCESSIBILITY
Gretchen is wheelchair accessible. Formerly existing steps in Box1 (large floor) and to Box2 (small floor) were replaced by built-in ramps in 2021. The entrance area has a mobile ramp. The wheelchair-accessible restroom is located behind the stage. Please just ask at the entrance or at the bars for the key procedure.
public transport:
U1, U6, U7 (Mehringdamm, Hallesches Tor)
Bus 140, 248, N1, N6, N7, N42, M19, M29, M41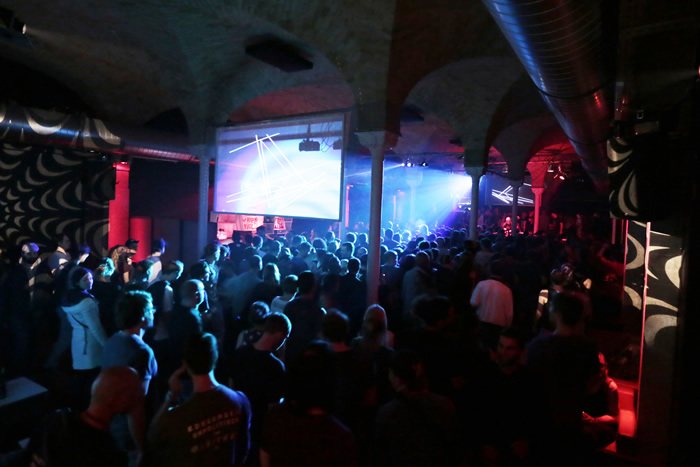 +++ CORONA NEWS +++
Liebe Freund*innen, (english below)
Es macht uns unfassbar traurig, aber wir schließen (wieder).
Die Krankenhäuser sind (wieder) voll, dass Pflegepersonal sowie Ärzt*innen sind (wieder bzw. weiter) überlastet, Operationen müssen (wieder) verschoben werden.
Menschen, die sich auskennen (nämlich Wissenschaftler*innen) betteln förmlich um Kontaktreduzierung, damit die pandemische Lage nicht noch weiter aus dem Ruder läuft.
Wir möchten nicht unnötig zum Infektionsgeschehen beitragen.
Es ist so unglaublich schade, weil all das nicht nötig wäre.
Es ist so ein unglaubliches Glück, dass so schnell Impfstoffe entwickelt werden konnten, durch die wir die Pandemie hätten eindämmen können. Wir haben Impfstoffe, die vor schweren Verläufen schützen und die Ansteckungsgefahren reduzieren. Geimpfte Menschen schützen sich selbst und andere.
Es könnte so einfach sein.
Unsere Solidarität gilt allen, die in den Krankenhäusern und Pflegeheimen jeden Tag aufs Neue (wieder) versuchen, Leben zu retten und dabei (wieder) bis ans Ende ihrer Kräfte gehen müssen.
Gretchen-Team
######################

Dear friends,
It makes us incredibly sad, but we close (again).
Hospitals are (again) full, nursing staff and doctors are (again or further) overburdened, operations have to be (again) postponed.
People who professionally knows about (namely scientists) are literally begging to reduce contacts so that the pandemic situation does not get further out of control.
We do not want to contribute unnecessarily to the infection process.
It is such a shame because none of this is necessary.
It is so incredibly fortunate that vaccines, that could have helped us contain the pandemic, could have been developed so quickly. We have vaccines that protect against severe diseases and reduce the risk of infection. Vaccinated people protect themselves and others.
It could have been so easy.
Our solidarity goes out to everyone who tries (again) every day in hospitals and nursing homes to save lives and therefore has to go (again) to the end of their tether.
Gretchen team