GRETCHENs Programm als (Live-)Club spiegelt die Vielschichtigkeit der aktuellen musikalischen Strömungen wider. Von Electronica, Bass, Drum'n'Bass, Dubstep, Trap über IDM, Elektro, Glitch, Experimental, Avantgarde bis hin zu HipHop, Funk, Soul, Folk, Afrobeats, Jazz und World präsentiert sich GRETCHEN als absolut offen für jedwede Stile.
GRETCHEN ist facettenreich und steht für Qualität, Experimentierfreudigkeit, anspruchsvolle und innovative Sounds.
GRETCHEN ist elektronisch bis unplugged, präsentiert DJ-Sets und Live-Konzerte. Musikalische Qualität von Genre und Künstler sind entscheidend, nicht begrenzte Vorstellungskraft, Borniertheit oder Langeweile.
Gretchen repräsentiert Berlin, gibt nationalen und internationalen Künstlern, deren Labels, aber auch Newcomern eine Plattform.
• "Das Gretchen hat sich innerhalb weniger Jahre zu einer absoluten Institution entwickelt: Nicht nur in Kreuzberg, nicht nur in Berlin – weltweit haben Pamela Schobeß und Lars Döring mit ihrem einzigartigen Booking auf sich Aufmerksam gemacht." (splash! mag)
• "Gefühlt gibt es das Gretchen am Mehringdamm schon ewig. Eine halbe Dekade erscheint da wenig. ... Oder es liegt daran, dass in all den Jahren Programm und Enthusiasmus auf Topniveau geblieben sind? Kein Leichtes im gierigen Berliner Nachtleben. Dem zollen wir Respekt." (zitty.de)
• AWARD "APPLAUS" 2015, 2016 und 2017 - Auszeichnung der Programmplanung unabhängiger Spielstätten der Bundesbeauftragten für Kultur und Medien
• AWARD "Vielfältigstes Booking 2014" (Bln.FM)
• "Gretchen is arguably Berlin's—if not Germany's—premiere spot for electronic hip-hop and bass music." (Resident Advisor)
• "Berlin's premier club for leftfield beats." (earmilk)
• "Berliner Geschmacks-Institution" (Splash! Mag)
• "A mekka for beatheads in Europe" (someone on facebook)
Mitten in Kreuzberg, in den ehemaligen Stallungen des preußischen 1. Garde-Dragoner-Regiments Königin Victoria von Großbritannien und Irland von 1854, präsentiert sich GRETCHEN in historischem Charme gepaart mit coolem Clubdesign. Das wunderschöne Kreuzgewölbe, die filigranen Säulen werden von Beats und Bässen beschallt, Lichtinstallationen umspielt und einem musikalisch interessierten Publikum freigegeben.
*** GRETCHEN steht für Reinheit, Ehrlichkeit und Unschuld. Gleichzeitig ist sie für Goethe's Faust Objekt der Begierde. GRETCHEN ist aber auch die vielleicht brutalste Serienkillerin in der modernen Literatur. STRAIGHT sind am Ende beide… ***
MINDESTALTER
Einlass zu CLUBveranstaltungen (u.a. alles, was ab 22 Uhr oder später beginnt) ab 18 Jahre! Keine Ausnahmen! Keine Muttizettel o.ä.!
Einlass zu KONZERTveranstaltungen (alles, was vor Mitternacht zu Ende ist) ab 16 Jahre! In der Regel keine Ausnahmen, keine Muttizettel o.ä.!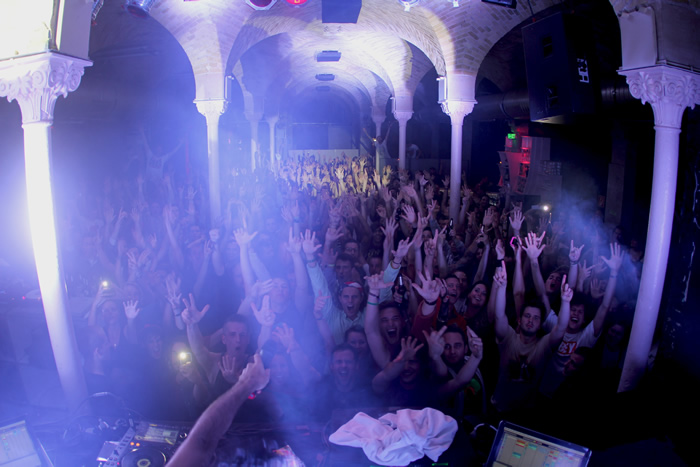 CORONA +++ TICKETS
Wegen der Corona-Pandemie müssen wir unser Programm bis auf Weiteres aussetzen. Alle Veranstaltungen bis mind. 31.07.2020 entfallen oder werden auf einen späteren Zeitraum verschoben. Wir arbeiten an neuen Terminen. Bitte entschuldigt, dass es noch nicht für jede Veranstaltung bereits ein neues Datum gibt.
Tickets behalten ihre Gültigkeit oder können dort zurückgegeben werden, wo sie gekauft wurden (nicht bei uns!). Wir haben uns gegen die Gutscheinlösung entschieden, weil wir finden, dass Ihr selbst entscheiden können sollt, ob Ihr Eure Tickets behalten möchtet oder ob Ihr sie zurückgeben müsst.
ACHTUNG: CTS/Eventim bearbeitet zur Teit ca. 1,5 Mio Storno-Anfragen. Es wird ggfs. eine kleine Weile dauern... Bitte habt etwas Geduld.

Dennoch: Wenn Ihr uns Euer Ticket gern spenden möchtet, dann behaltet es einfach und gebt es nicht zurück. So helft Ihr uns, unsere Fixkosten zu bezahlen, solange wir geschlossen bleiben müssen.
--------- english version ----------
Due to Corona we have to skip our program until further notice, at least until July 31, 2020. All shows until then will be postponed or cancelled. We are working on new dates. Please excuse delays.
Tickets remain valid or can be returned where they were bought (not through us!). We did not follow the voucher-system, because it should be up to you, if you like to keep the ticket or if you need to return it.
NOTE: CTS/Eventim currently processes about 1.5 million cancellation requests. It might take a while...

Nevertheless: In case you like to donate your ticket, just do not give it back- Just keep it. We will recieve the money from the donated tickets a little later. This money will help to pay our bills during the club-shutdown.
Cancelled or rescheduled dates
14.03.2020 YinYin | NEW DATE 24.10.2020
14.03.2020 LTJ Bukem | NEW DATE 03.10.2020
16.03.2020 Islandman | NEW DATE 19.10.2020
17.03.2020 Kazy Lambist | NEW DATE 25.11.2020
18.03.2020 TNGHT | CANCELLED
19.03.2020 Flavia Coelho | NEW DATE 22.01.2021
21.03.2020 ToyToy | NEW DATE 12.11.2020
23.03.2020 La Pegatina | NEW DATE 19.03.2021
24.03.2020 Berry Sakharof | NEW DATE 16.03.2021
25.03.2020 Skinny Pelembe | NEW DATE 21.09.2020 | CANCELLED
27.03.2020 Beardyman | NEW DATE 26.11.2020
27.03.2020 Mayra Andrade @ Festsaal | NEW DATE 29.09.2020
27.03.2020 Guts | NEW DATE 11.12.2020
29.03.2020 Dudu Tassa & The Kuwaitis | NEW DATE 24.07.2020 | NEW NEW DATE SOON
30.03.2020 Shafiq Husayn | CANCELLED
02.04.2020 Gentleman | CANCELLED
03.04.2020 Gavlyn | CANCELLED
04.04.2020 RECYCLE: Hospitality | NEW DATE 21.11.2020
05.04.2020 The Herbaliser | NEW DATE 28.09.2020
07.04.2020 Juana Molina | NEW DATE SOON
08.04.2020 The Lesson GK | NEW DATE 09.11.2020
10.04.2020 The Bloody Beetroots | NEW DATE 20.11.2020
11.04.2020 Mark Guiliana | CANCELLED
15.04.2020 Rejoicer | NEW DATE SOON
16.04.2020 Kel Assouf | NEW DATE 21.10.2020
17.04.2020 A Night with Kampire | NEW DATE 10.10.2020
20.04.2020 Portico Quartet | NEW DATE 13.10.2020 NEW NEW DATE 13.05.2021
21.04.2020 Avec | NEW DATE 23.09.2020 | NEW NEW DATE 03.03.2021
23.04.2020 Fakear | NEW DATE 10.03.2021
23.04.2020 Lane 8 | CANCELLED
23.04.2020 The Gaslamp Killer | NEW DATE SOON
24.04.2020 Buttering Trio & Footprint Projekt | NEW DATE SOON
25.04.2020 Critical | NEW DATE 05.09.2020 | NEW NEW DATE 10.04.2021
25.04.2020 Ida Nielsen & The Funkbots | NEW DATE 24.04.2021
26.04.2020 Cyrille Aimee | NEW DATE 15.09.2020 | NEW NEW DATE 20.03.2021
28.04.2020 Black Milk | NEW DATE 27.10.2020
28.04.2020 Holden & Zimbel @ Berghain | NEW DATE 15.09.2020 | NEW NEW DATE 14.04.2021
02.05.2020 Bukahara @ Huxleys | NEW DATE 06.10.2020
05.05.2020 Mulatu Astatke @ Festsaal | NEW DATE 19.10.2020 | NEW NEW DATE 21.05.2021
06.05.2020 Chouk BWA | NEW DATE SOON
08.05.2020 The Andy Timmons Band | NEW DATE 02.05.2021
11.05.2020 Carlton Jumel Smith | NEW DATE SOON
13.05.2020 Ghost-Note | NEW DATE 12.05.2021
16.05.2020 The Hirsch Effekt | NEW DATE 30.10.2020
17.05.2020 Kiefer | CANCELLED
20.05.2020 47 Soul | NEW DATE 16.10.2020
21.05.2020 Clap!Clap! | NEW DATE 26.09.2020
22.05.2020 La Hafla : Acid Arab | NEW DATE 07.11.2020
23.05.2020 Metalheadz | NEW DATE SOON
25.05.2020 Nubya Garcia | NEW DATE 08.09.2020
25.05.2020 Too Many Zooz | NEW DATE 09.08.2020 | NEW NEW DATE SOON
26.05.2020 Yves Tumor | NEW DATE SOON
29.05.2020 Romare | NEW DATE 17.10.2020 | NEW NEW DATE 12.02.2021
30.05.2020 Derya Yildirim & Grup Şimşek | NEW DATE SOON

31.05.2020 KMFDM | NEW DATE SOON
04.06.2020 Seed Ensemble | NEW DATE 29.11.2020
10.06.2020 Tijuana Cartel | 04.06.2021
18.06.2020 47Soul | NEW DATE 16.10.2020
25.06.2020 Kishi Bashi | NEW DATE SOON
01.07.2020 Gavlyn | CANCELLED
18.07.2020 Mark Guiliana | CANCELLED
24.07.2020 Dudu Tassa & The Kuwaitis | NEW DATE SOON
08.08.2020 Wavviboi | NEW DATE 13.06.2021
09.08.2020 Too Many Zooz | NEW NEW DATE SOON
05.09.2020 Critical | NEW NEW DATE 10.04.2021
21.09.2020 Skinny Pelembe | CANCELLED
23.09.2020 Avec | NEW NEW DATE 03.03.2021
13.10.2020 Portico Quartet | NEW NEW DATE 13.05.2021
17.10.2020 Romare | | NEW NEW DATE 12.02.2021
18.10.2020 Mathew Halsall | NEW DATE 27.05.2021
19.10.2020 Mulatu Astatke | NEW NEW DATE 21.05.2021 @ Metropol
20.10.2020 Ben L Oncle Soul | NEW NEW DATE 15.02.2021
22.10.2020 Kensington | NEW DATE 31.03.2021